JOIN US SUNDAYS for KIDS CHURCH
KIRK KIDS
"Inspiring Christian Faith in the Next Generation"
Kirk Kids Church meets every Sunday during the 9:30 am Worship Service each week. Our Kirk Kids area is a clean, safe and positive place to be with caring teachers leading worship, story telling, fun crafts, games, snacks!
Nursery is available for ages 0-1.
Kids Church Toddlers 2 and 3-year-olds
Kids Church Preschool VPK and Kindergarten
Kids Church Elementary 1st Grade through 5th Grade
Kids Church Check-In opens at 9:15.
Childcare provided until 10:45 am. Please pick your child up by this time.
If your child is sick, please keep them with you.
PUMPKIN DELIVERY DATE SET FOR OCTOBER (*TBD)!
Our pumpkins come from New Mexico and an incredible organization called PumpkinsUSA that helps nonprofit organizations like us fund raise, while at the same time employing Navajo Native American staff (including management) and during harvest, Zuni and Hopi tribe members as well. The unemployment rate on the Navajo Reservation is 42%. PumpkinsUSA is doing their part to help, and they go above and beyond to take care of their employees. So when you purchase a pumpkin from us, you're doing a good thing!
Our pumpkins come straight from the field to our patch within a day or two, so they are fresh and ready for you! Pick up a paper from our patch to find out more information on pumpkin care and how to make them last!
We are located at 2686 Bayshore Blvd (Alt. 19) Dunedin, FL 34698 (just north of Curlew Road).
Have questions? Give us a call at 727-733-9305 and ask for Katie or email us at kirkalive@hotmail.com.
BREAKFAST WITH SANTA
It starts with a yummy pancake breakfast and visits from our Christmas friends, the Elves. Afterwards make your way to find a seat for our hilarious skit adventure with the Elves to learn a little more about the TRUE meaning of Christmas! Suddenly bells ring and who could it be? None other than Santa himself! Each child gets a chance to sit on his lap and receive a special gift with his or her name on it!
This is a free event; however, online registration with a printed ticket is required. This allows the Elves a chance to add a special, personal touch to the event for your child.
We welcome any age to attend the event, but only children 0-12 year's old will receive a special gift from Santa--MUST be accompanied by an adult!
We are grateful to everyone who helps make this event free for families. Thanks to all who donate time and funds. Thanks to all who worked or shopped in our pumpkin patch. Thanks also to the Pinellas Community Foundation for their support of Breakfast with Santa through the Faith Mission Grant.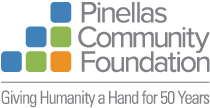 PINELLAS COUNTY FOUNDATION - KIRK CHURCH CHILDREN'S MINISTRY is able to provide youth and community events and activities through the Faith Mission Grant, given through our partnership with the Pinellas Community Foundation (PCF). We have been blessed through these funds. Thanks to PCF!
EASTER EGG HUNT
Each year the Saturday before Easter Sunday at 2 pm we host an annual Easter Egg Hunt! This event is open to kids 0 years to 5th grade. Egg hunts take place in age-specific areas and times. This allows kids a better chance at finding more eggs.
This is a time-sensitive event. We cannot guarantee eggs if you show up late. If for some reason your child was on time and did not find eggs, we'll ask the Easter Bunny where he may have hidden some extras!
Easter coloring pages available in the lobby prior to the event.
As a fun surprise, some eggs may contain special coins; turn these coins in at the prize table! One prize limit.
If you or your group would like to volunteer at any of our events or your business would like to be a sponsor at one of our events, contact us at: kirkalive@hotmail.com